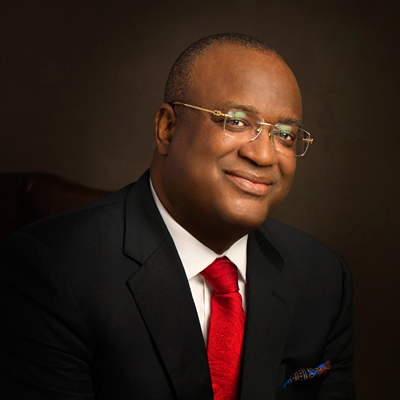 Augustine Alegeh, SAN is the Founding and Principal Partner of The Firm. He is a 1985 Law graduate (LLB) of The University of Benin. He attended The Nigerian Law School, Lagos in 1986 and was admitted to The Nigerian Bar in October 1986. He won The Bola Ajibola Prize for Civil Procedure at The Bar qualifying Examination in 1986.He was appointed a Notary Public in 1995.
He previously worked with Firm of Sadoh & Co. (Legal Practitioners) between 1986 and 1989. Following the appointment of the former Managing Partner of Sadoh & Co. as a Judge of The High Court in March 1989, he became Principal Partner of The Firm, which then became known as Alegeh, Agun & Co. In September 1990, the firm became known as Alegeh & Co. following the departure of the erstwhile Partner (Francis Agun) to practice in The New York Bar. He expanded the practice base of The Firm and opened offices in Lagos and Abuja. He is a member of The Nigerian Bar Association as well as The International Bar Association. He has attended various International and local conferences.
He was elevated to the rank of Senior Advocate of Nigeria in 2007 and in 2008; he obtained a Diploma in International Commercial Arbitration from Kebble College, Oxford University, United Kingdom. Mr. Alegeh is a Fellow of The Chartered Institute of Arbitrators, U.K and he is currently the 27th President of the Nigerian Bar Association elected in July, 2014 to serve a single term of two years.
He is actively engaged in Litigation and Corporate Practice and has argued several landmark cases at the Supreme Court, Court of Appeal, High Courts and Tribunals. He has also handled matters before several International Arbitration Tribunals.